Overwhelmed By Your Daily Pill Routine? Now You Can Take Fewer Pills to Boost Your Health with Regeneraid II
Regeneraid II now has a companion multiple mineral product. No more hands full of pills — one of these, two of those, and so on. Two Regeneraid II Cardiovascular Support Formula pills and two Multiple Minerals pills, taken twice a day with meals, provide your ideal balance of vitamin and mineral dosages. They include 100 mg of CoQ10 and 5,000 I.U of D3, two important antioxidants that boost your protection against oxidative stress that accelerates aging and health issues. No need to buy additional products. Simple and easy!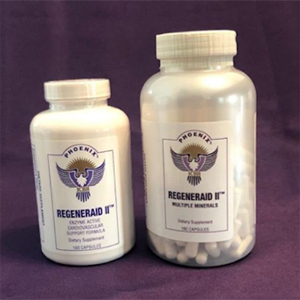 Regeneraid II was originally formulated by ICBR founder, Dr. Tom Smith, who was both a physician and Ph.D. biochemist. He had formulated for the biggest pharmaceutical and vitamin companies, but was always prevented from using the finest ingredients because of cost. We decided to produce the very best vitamin/mineral product and distribute directly to the consumer, eliminating the multiple layers of profit and putting the money in the ingredients instead. The result was the best product on the market, by far.
Until now, we have had to counsel people to take an additional mineral product because there was no practical way to put enough of the macro minerals (such as calcium, magnesium, and so on) in one capsule. The solution was to add a complimentary formula.
Of course, as with our vitamin products, quality ingredients are of the utmost importance. Quality is impossible to determine from the label alone — you must depend on the integrity of the company. As I hope you know, we at ICBR value your trust above everything else. You can depend on us to deliver the best product at the lowest price possible, never sacrificing quality.
Our products:
Add ease to your daily life. You no longer have to worry about taking more pills than you can count.

Use only the

purest

ingredients for your optimal health and safety.

Supplement your body with a wide range of nutrients to keep your body functioning at its best.
Both bottles contain 180 capsules. While taking four a day, as directed, each will last 45 days. This was designed for your convenience, so you don't run out of one before the other. The order form and ingredient panels are enclosed.
Please let me know if you have any questions.
With best wishes for your health and happiness!
Judi Smith
Purchase your order below